Where is your next trip? West Coast? East Coast? Europe? South America? My husband and I recently returned from a trip with friends in Colorado. I faced some of my biggest fears around heights. Our group scaled the exhilarating Via Ferrata in Telluride, and I highly recommend it.
Best Practices for Traveling to Your Destination:
One thing that can trip you up when traveling is running out of time and options when it comes to eating. Whether you are driving or flying to your destination, planning what and when you will eat can be just as important as knowing what route you will take or when your flight leaves.
Before you leave home for a road trip, plan a few nice spots where you will stop to enjoy your meals; hopefully, you've built enough time into your day to take a break from driving and enjoy your surroundings!
#1 Tip for Traveling: Bring food!
If you are on a road trip, bring along a small cooler for the car and pack it with healthy food items; nuts and seeds, easy to eat fruit like strawberries, blueberries, and apples, cheese sticks, cut-up veggies and hummus, beef jerky, and yogurt parfaits are some of my favorites to bring along on the road.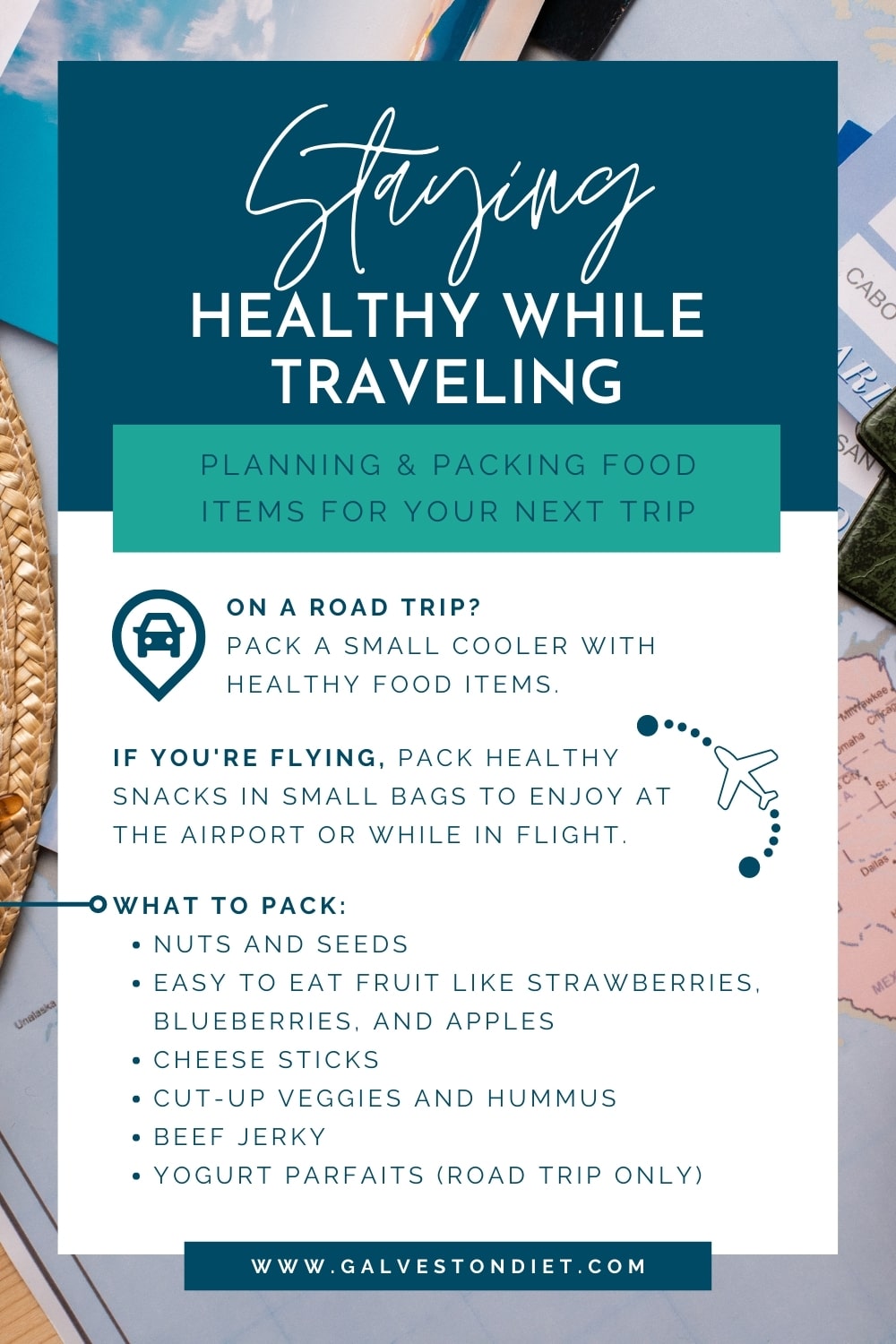 If you are flying to your destination, pack healthy snacks in small bags and enjoy them at the airport or while in flight.
By bringing food along for the ride/flight, you have control over what you are eating, and you know that you are making healthy choices.
Last but not least: Hydrate, Hydrate, Hydrate.
If You Have to Eat on the Road:
Stopping for food in a restaurant or relying on what is available at the airport or on a flight can be tricky; you may struggle to find something that fits with your healthy lifestyle and end up either eating inflammatory foods or not eating at all. Instead of being stuck between a rock and a hard place, plan ahead and enjoy your journey!
If you end up stopping to eat along the way or at the airport, don't give up on your healthy habits. Order something that will be a good combination of healthy fats, lean protein, and minimal carbs.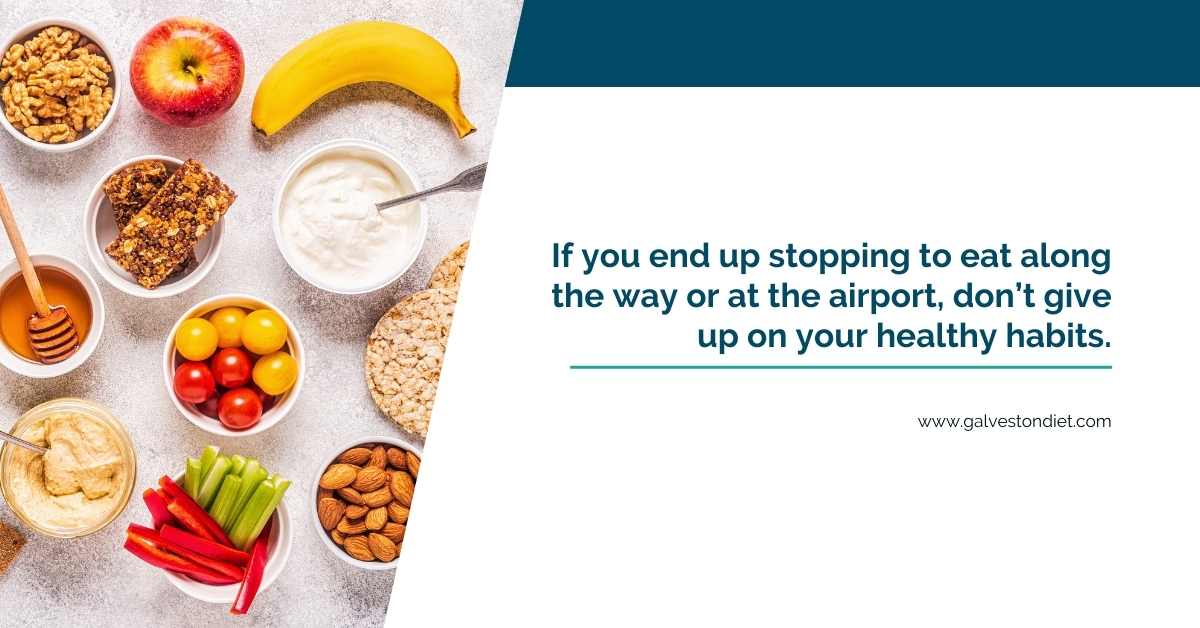 In a restaurant, ask for substitutions like sliced tomatoes or avocado instead of fries.
If you make a quick stop at a gas station mini-mart, look for nuts, fresh veggies, and cheese sticks instead of overly processed foods like chips and soda.
At the airport, choose a fresh salad or wrap that doesn't have creamy dressing; you may be able to buy lean protein like chicken or a hard-boiled egg to add on the side.
Check out my recent freeway pit stop:
Tips for Enjoying Your Destination:
Build-in time each day for yourself. You may have a day filled with work meetings and events or a day filled with family fun time at the pool; whatever your reason for travel, plan ahead once you reach your destination so that you can set aside time for self-care.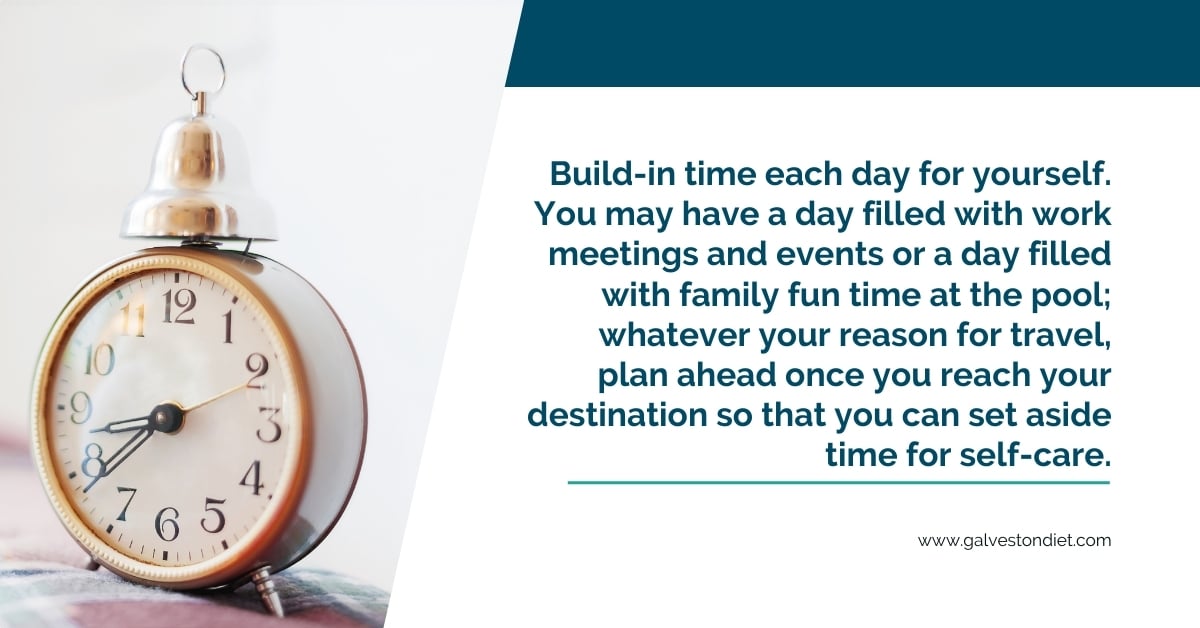 When I travel, I like to get up early each morning and take a short walk or meditate. By taking 30 minutes for myself, I feel centered and ready to take on the day.
It can be a challenge to fit in exercise when traveling. When possible, I make time to visit the hotel gym or go for a run. At the least, I always take the stairs.
If I'm traveling with family or friends, we try to schedule outdoor activities like hiking (a family favorite) along with relaxing.
If you are staying somewhere with a pool, on a lake, or near the ocean, swimming and other watersports are great ways to combine exercise and lots of fun for the whole family.
Eating in restaurants can be another challenge when traveling. For tips on navigating a restaurant menu, see my previous blog on tips for eating out.
Once You Return Home:
Before arriving home, I like to make a list of things that I need to do and set some priorities for the upcoming week. When I walk in the door at home, I feel less anxious because I already have the week planned out.
Unpack as soon as possible. I've found that if I wait more than an hour or two to unpack, my suitcase will probably sit for a few days before I get around to unpacking it. Sometimes I have to force myself to unpack, but I've found that it is a great way to avoid feeling disorganized once I've returned home.
Did you overindulge a bit while on your trip? Did you skip doing regular exercise? No worries! Start fresh on your first morning back and reset your eating and exercise habits back to pre-trip mode.
If you get a flat tire, you don't slash the other three tires, right? Be patient with yourself and focus on getting back to your healthy at-home routine. You'll be back to your best self in no time!