Weight gain may seem unavoidable as you reach middle age, but it doesn't have to be…
As estrogen levels begin to fluctuate, you start to experience signs of menopause, such as hot flashes, night sweats, and mood changes, as well as noticing that your pants may be getting a bit tighter.
As estrogen levels drop, we experience a rise of active testosterone, and fat distribution begins to shift from the hips and thighs to the abdomen1 – in the form of visceral, or "belly fat." Testosterone is the cause of this new belly fat phenomenon.2
And belly fat isn't just unsightly; it's also dangerous. Studies have shown to raise the risk of heart disease,3 diabetes,4 dementia,5 breast cancer,6 and perhaps even early sudden death.7
My top tips to decrease belly fat throughout menopause and beyond
1. Eat More Protein8
Studies have shown that people who eat at least 1 – 1.5 g of protein for every kg of lean body mass have less belly fat than people who eat less. Try increasing your intake of high protein foods such as whole eggs, fish, legumes, nuts, meat, and dairy products.
2. Get enough Soluble Fiber9
There are several reasons why getting enough soluble fiber can decrease your amount of belly fat. Studies show that people who consume more soluble fiber have a greater variety of bacteria and better health outcomes.10 Furthermore, a new study found that individuals with a varied gut microbiome had a lower chance of belly fat.11 Foods containing high levels of soluble fiber include dried beans, oats, oat bran, rice bran, barley, citrus fruits, apples, strawberries, peas, and potatoes.
3. Probiotics12
Probiotics are healthy bacteria found in food and supplements that support gut health. Studies have shown that probiotic supplementation can substantially reduce belly fat. In another study, women who took a probiotic supplement lost 50% more weight than women who took a placebo.13 Foods rich in probiotics include yogurt, sauerkraut, miso soup, soft cheeses, kefir, sourdough bread, acidophilus milk, and sour pickles.
4. Consider Borage Oil Supplementation14
Borage oil is prized for its high concentration of gamma-linoleic acid (GLA). This fatty acid is believed to aid in the reduction of inflammation linked to a variety of diseases. In one study, there was a significant decrease in waist to hip ratio (an important measure of visceral fat) in menopausal participants who took a borage oil supplement versus placebo.
5. Practice Intermittent Fasting15
Among the well-recognized health benefits of intermittent fasting (IF), a significant decrease in belly fat is one of my favorites. When practicing intermittent fasting, fasting blood glucose and insulin levels decrease over baseline. Higher blood sugars and insulin levels are another major cause of belly fat increase.
Stave off the discomfort and dangers of visceral fat with mindful adjustments. What you eat and when matters: eat more protein to encourage lean muscle, seek sources of soluble fiber and probiotics to cultivate a happy microbiome, and incorporate the health dividends with the discipline of intermittent fasting. Finally, supplement with borage oil to decrease abdominal inflammation that can lead to disease. We are with you step by step to a leaner, lighter you.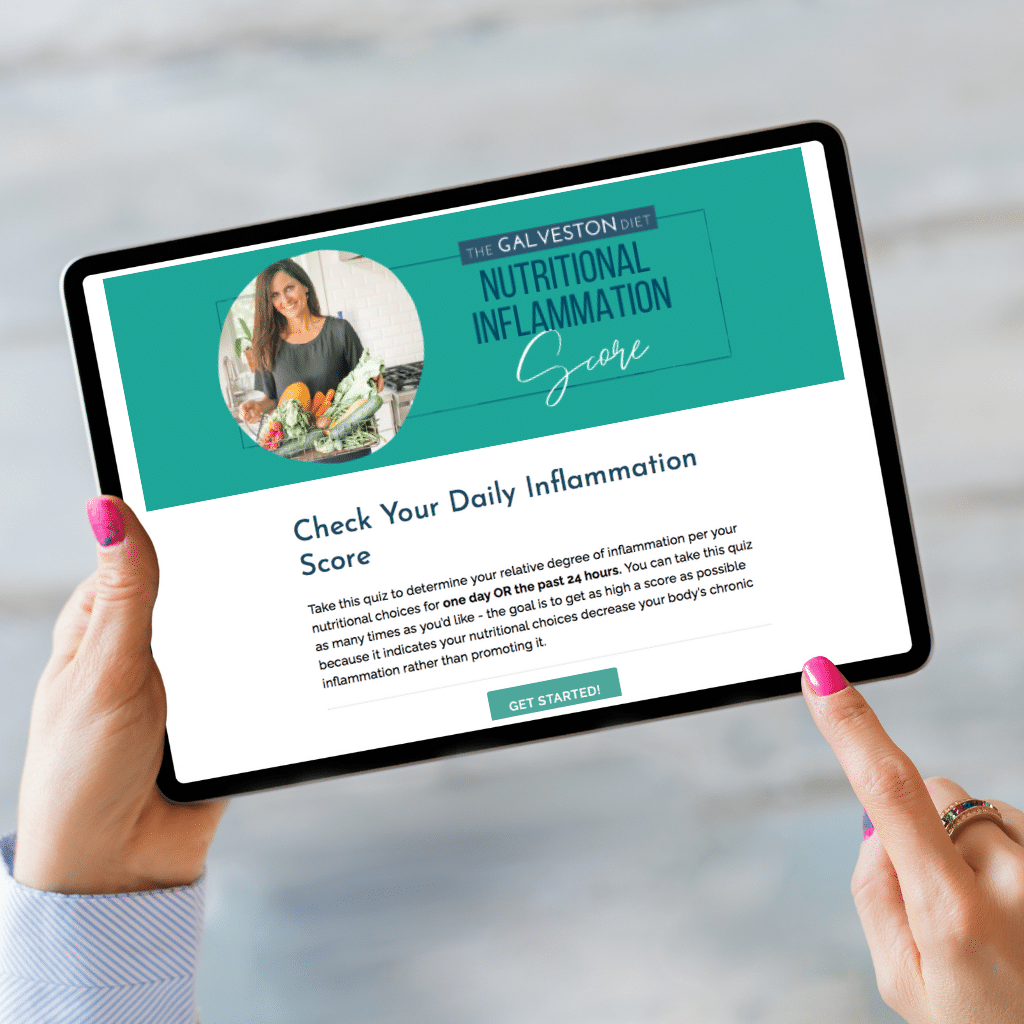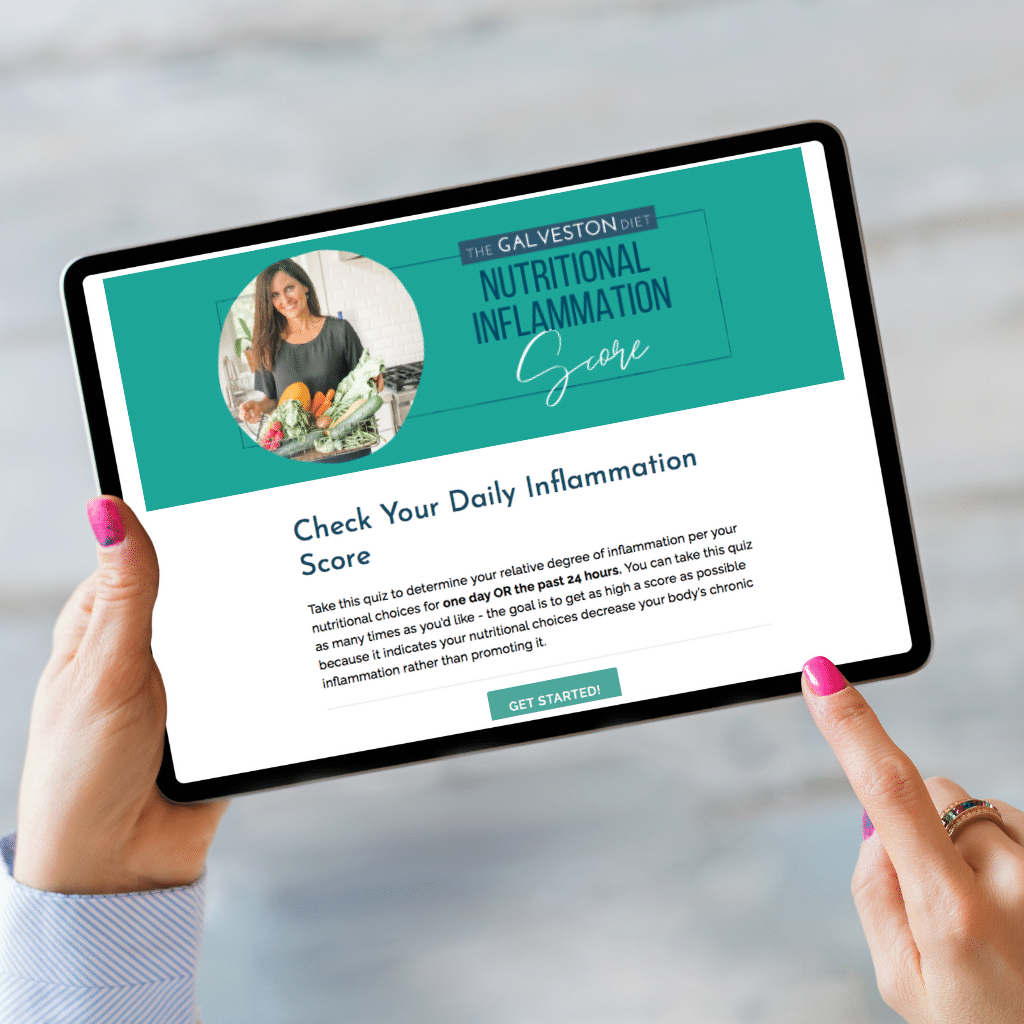 What's Your Nutritional Inflammation Score?
Take our Nutritonal Anti-Inflammation Quiz to determine your relative degree of inflammation based on your nutritional choices.
If you are unsure of your inflammation levels, we created our very own Nutritional Anti-Inflammation quiz. Check your Daily Inflammation Score here. This quiz will help you determine your relative degree of inflammation for the past 24 hours. The great news? You can take the quiz as many times as you'd like. Please remember that you can make changes slowly for long-term results. The Galveston Diet is about creating new habits that last!

Article References:
1https://journals.lww.com/menopausejournal/Abstract/1995/02010/Age_at_Menopause_in_Women_Participating_in_the.5.aspx
2 https://www.ncbi.nlm.nih.gov/pmc/articles/PMC2866448/
3 https://www.ncbi.nlm.nih.gov/pmc/articles/PMC5619737/
4 https://www.sciencedirect.com/science/article/abs/pii/S0939475306001505
5 https://www.cambridge.org/core/journals/british-journal-of-nutrition/article/relationship-between-adiposity-and-cognitive-function-in-a-large-communitydwelling-population-data-from-the-trinity-ulster-department-of-agriculture-tuda-ageing-cohort-study/92B48D9F2754CE425A88482506CAAED6
6 https://acsjournals.onlinelibrary.wiley.com/doi/abs/10.1002/1097-0142(19940715)74:2%3C632::AID-CNCR2820740215%3E3.0.CO;2-T
7 https://www.ncbi.nlm.nih.gov/pmc/articles/PMC5478802/
8 https://pubmed.ncbi.nlm.nih.gov/25733478/
9 https://pubmed.ncbi.nlm.nih.gov/21681224/
10 https://pubmed.ncbi.nlm.nih.gov/17472627/
11 https://pubmed.ncbi.nlm.nih.gov/27666579/
12 https://pubmed.ncbi.nlm.nih.gov/32615727/
13 https://pubmed.ncbi.nlm.nih.gov/24299712/
14https://journals.lww.com/menopausejournal/Abstract/9000/Is_there_a_beneficial_effect_of_gamma_linolenic.97008.aspx