Say Goodbye to middle age weight gain
With an anti-inflammatory approach to nutrition, Dr. Haver has cracked the code and found an innovative solution that actually works. The Galveston Diet can help women in menopause lose weight, burn fat, and feel more confident in their skin. Sign up for this incredible, natural weight-loss program today.
Lose Weight, Look Great & Live Your Best Life
Menopause weight gain is a true struggle. The Galveston Diet is the first program created by a female OBGYN physician for women in menopause. When you sign up for The Galveston Diet, you'll have unlimited access to this natural weight loss course, along with videos, text, and visual aids for learning.
This self-paced program lets you decide when to start and finish, giving you complete control of your weight loss journey. There's no reason not to try this natural weight loss program!
"Thank you, Dr. Haver. Thanks For Helping Me Find Me."
Why Try The Galveston Diet?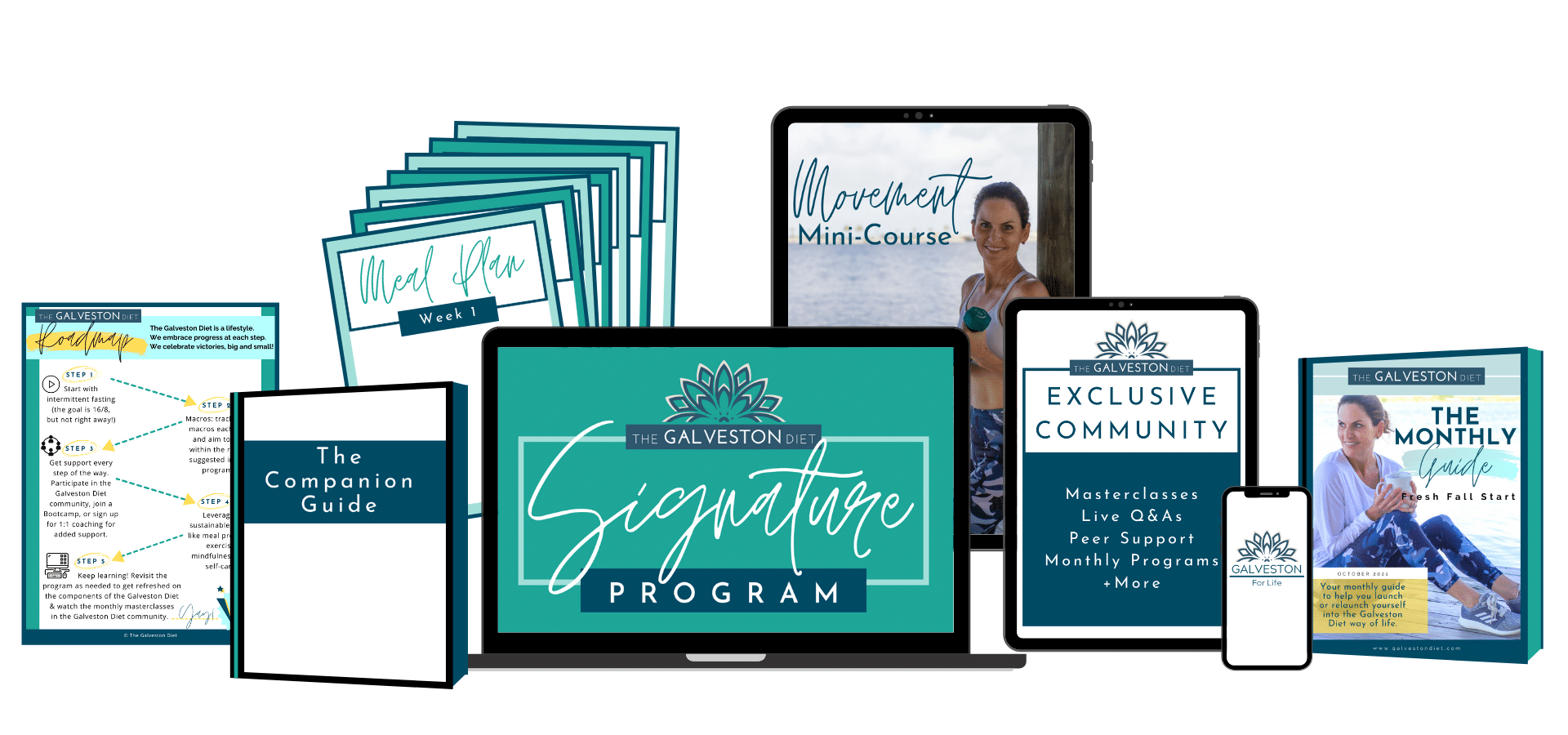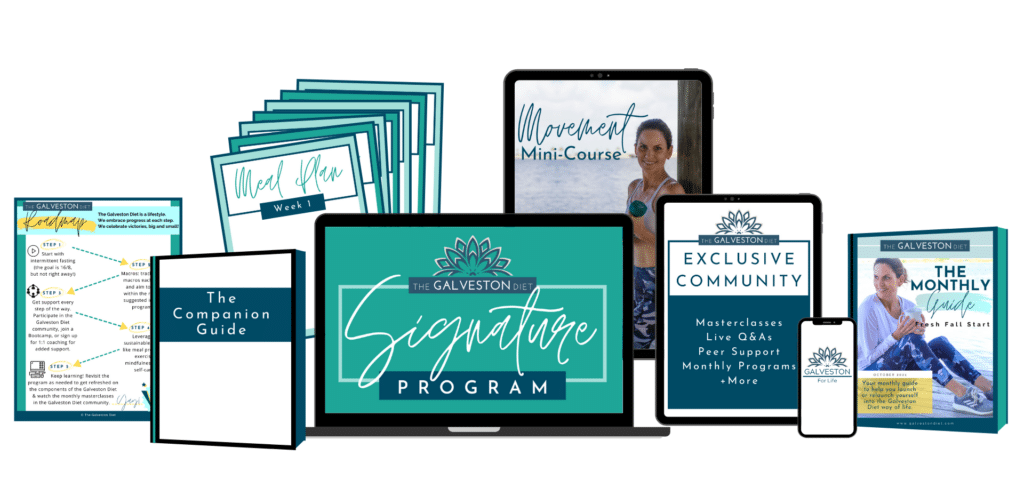 Here's What You're Getting When You Enroll in the Galveston Diet Membership
Access to the Signature Course (Unlimited Value):
You get immediate access to all of the course material, which
lays out a step-by-step plan so you can begin implementing the Galveston Diet lifestyle starting today. This is a plan that has helped thousands of students get back the vitality they longed for, lose unwanted weight gained during perimenopause or menopause, and decrease frequently reported symptoms (such as hot flashes) during perimenopause and menopause.
Monthly Live Question & Answers with Certified Galveston Diet Coaches ($250+ Value):
Once a month, we do a live question and answer session where you can ask questions on anything related to health and wellness and the Galveston Diet lifestyle. These Q&As are recorded and available for you to watch at any time, so you'll never miss a thing!
Monthly Masterclasses ($150+ Value):
Every month, we'll choose a specific topic related to the Galveston Diet lifestyle and do a deep dive masterclass on that topic.
The Galveston Diet Magazine ($35 Value):
This monthly digital magazine includes articles, tips, recipes, and inspiration to help you maintain your new healthy habits for the long-term.
7-Weeks of Meal Plans ($500 Value):
Unlike fad dietary changes that don't provide lasting results, the Galveston
Diet teaches you how to eat for longevity. You won't be deprived of delicious meals, and with 7-weeks of expertly crafted meal plans, you'll be able to catapult into a lifestyle change that lasts a lifetime!
Exclusive Community Access (Unlimited Value):
Doing anything alone is more challenging than with friends. When you join the Galveston Diet Membership, you will get access to our exclusive private community called Galveston for Life, where we provide daily prompts, accountability challenges, and so much more. You will build relationships with peers on the same journey as you, improving health one step at a time. We support each other through the ups and downs during both the program and life itself!
Join our community of over 65,000 women.
START YOUR JOURNEY TODAY!
Choose the membership plan that's right for you:
3 Month Membership
30% Off for a Limited Time!

$69.30 for the first payment then $99 every 3 months
Are you struggling with middle-age weight gain?
Conventional weight-loss wisdom for women in menopause doesn't work. I found out the hard way. Two things happened: I started undergoing the changes associated with menopause, and my brother died. Through my grief process, I gained about 20 pounds.
I had always been fit but I had stopped working out and my nutrition was upended. It was a perfect storm that blew my health and self-esteem off course. I tried to navigate my way back to my "happy weight" with the very same advice I had prescribed my patients for years: "eat less, work out more." Like them, I was suddenly embroiled in a vicious cycle of calorie restriction and cardio that didn't budge the stubborn pounds. I was left feeling zapped, demoralized, and frustrated. It was humbling to discover what I had been taught in medical school was wrong. That rude awakening inspired me to take a deep dive into the science behind hormonal weight gain and not emerge until I could confidently declare I had a long-sought solution for this very underserved community.
End The Vicious Cycle Of Calorie Restriction
I can't tell you the joy and relief I experienced when I was able to confidently give women an evidence-based program that actually works! We deserve to have the necessary science to make decisions about how to properly take care of ourselves, and our bodies. Menopause can now be more of a shift for our bodies and not such a life-altering time that we are expected to simply accept.
In 2017, I carefully distilled the complex concepts from my research to easily digestible nuggets and tested them with resounding success. My goal wasn't for women to shrink in size but to empower them so they might thrive. Not only were women losing inches and gaining muscle mass–they were sleeping better, had decreased hot flashes, and banished brain-fog. I cracked the code so menopause doesn't have to derail women from their dynamic lives and healthy, energetic bodies. Because the peer reviewed science behind nutrition, intermittent fasting, and the hormonal factors of menopausal weight gain are ever evolving, so is The Galveston Diet. I am with you on this health journey and am unwavering in my commitment to bringing you the most up-to-date information so you are living fully with confidence and vitality. It is time for women to invest in their most precious commodity, their health.