Say Goodbye to middle age weight gain
With an anti-inflammatory approach to nutrition, Dr. Haver has cracked the code and found an innovative solution that actually works. The Galveston Diet can help women in menopause lose weight, burn fat, and feel more confident in their skin. Sign up for this incredible, natural weight-loss program today.
Lose Weight, Look Great & Live Your Best Life
Menopause weight gain is a true struggle. The Galveston Diet is the first program created by a female OBGYN physician for women in menopause. When you sign up for the Galveston Diet Signature Program, you'll have unlimited access to this natural weight loss course, along with videos, text, and visual aids for learning. This self-paced program lets you decide when to start and finish, giving you complete control of your weight loss journey. With a 30-day money back guarantee, there's no reason not to try this natural weight loss program!
Why Try The Galveston Diet?
Are you struggling with middle-age weight gain?
I was too. It was awful.
As a board-certified OB-GYN physician, it never occurred to me that something I had been taught in med school was not exactly true.
For decades the same advice has been given to women in mid-life who are struggling with unwanted body changes during perimenopause and menopause: Eat less, exercise more.
Sounds logical right? I thought so too.
Until it happened to me
I had been fit for years, the scale had not budged much and I could always easily get it back to my "happy weight" without too much trouble.
Then two things happened: I started undergoing the changes associated with menopause, and my brother died.
Through my grief process, I gained about 15 pounds. I had stopped working out and paying any attention to what I was eating. I was filling myself with processed carbohydrates and nightly glasses of wine for months.
Once I felt better and realized what I had done to myself, I decided to get back into shape. I did what I counseled everyone at my age.
I ate less, and exercised more, and ate less, and exercised more, and ate less and exercised more, and I would lose a pound or two……and that was it. I was angry and frustrated and starving myself and not seeing any long term results.
I realized I sounded just like my patients.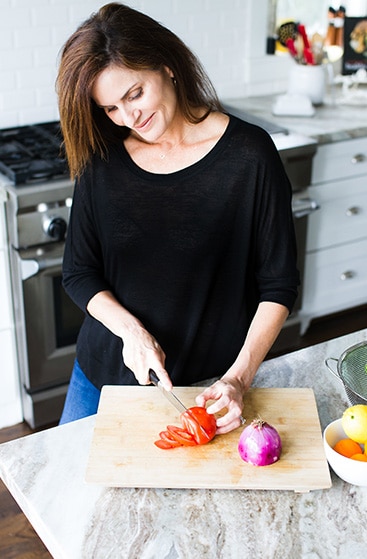 It was then I realized I was doing something wrong. Really really wrong.
When I started to see the same things happening to my body, naturally I followed the exact advice I had doled out to countless patients. And to my shock and frustration, it didn't work.
I was practically starving and I couldn't seem to get more than a few pounds off.
After trying nearly every plan I could find and getting nowhere, I was beginning to lose hope.
That's when I realized that all the women I had seen who had sworn they followed my advice to no avail, were telling the truth.
I was embarrassed to admit it. But more importantly, I was determined to solve it.
As a scientist I knew the answers were out there, I just had to find them. After much research and trial and error, I'm thrilled to say, I have found our solution. It's straight forward, easy to apply, and most of all totally effective. I've broken it down into a comprehensive course that explains everything.
I can't tell you the joy and relief I experienced when I finally cracked the code.
To be able to confidently give the world a solution that actually works is amazing. I am delighted when the women I treat return knowing they're back in control and finally feeling like themselves again.
It's what we all want really.
Going through menopause and perimenopause brings changes that can be a real struggle to adapt to. Adding seemingly uncontrollable changes to our muscle mass and body weight can make it nearly unbearable.
We deserve to have the necessary science to make decisions about how to properly take care of ourselves and our bodies. Menopause can now be more of a shift for our bodies and not such a life-altering time.
With my program, The Galveston Diet, you can go back to your most confident, vital self again!
What's included in the plan?
Instant Access To 24/7 Training
Quick Results
Videos and Comprehensive Resources
Meal Plan and Shopping List
Real-World Tips and Tricks To Ensure Your Success
Self Paced Learning
30 Day Money Back Guarantee
Lifetime Access To The Online Program
No recurring monthly fees
THREE LEVELS TO CHOOSE FROM
Join and receive LIFETIME ACCESS to The Galveston Diet.
There are three levels available for purchase, starting with the Signature Program. If you are looking to enhance your experience with more Galveston Diet tools, select the Gold or Platinum Levels. What's included? Compare the different levels with this helpful checklist.
TAP BELOW TO SELECT A PLAN (SIGNATURE, GOLD, OR PLATINUM) AND COMPARE PRICING AND FEATURES