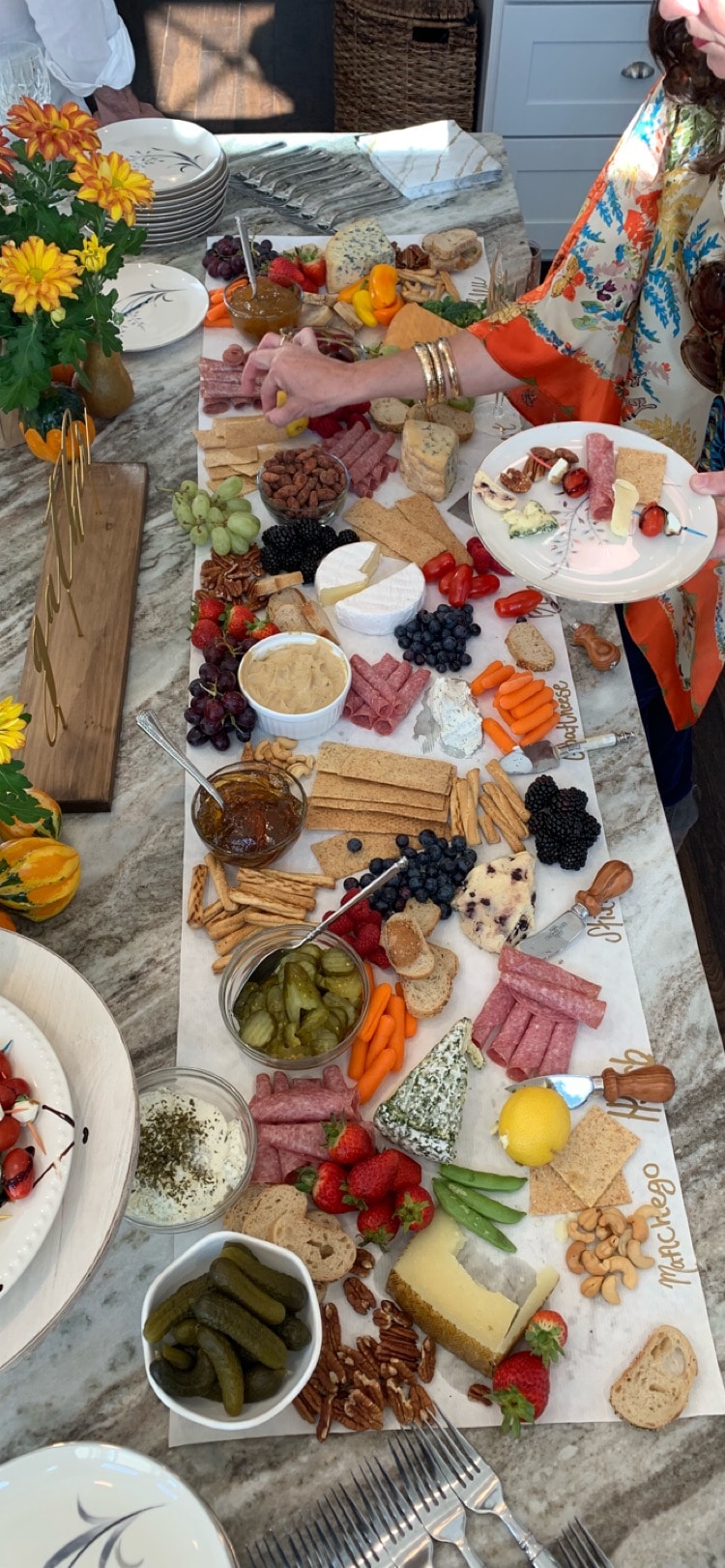 We were down to the wire. I had agreed to co-host a Sip & Stroll fundraiser for my kids school. Each of the three homes on the stroll were supposed to serve appetizers to our guests, and I was struggling to find something that would require little preparation, and that would also be beautiful and enjoyable.
A last minute scramble on Pinterest led me to the idea of a charcuterie board. I loved that we had so much variety of components to choose from, and every single one looked gorgeous.
Shopping:
I gathered a list of essentials: cheeses, meats, nuts, fruits, veggies, pickles, olives, spreads, and breads. To keep our platter "Galveston Diet friendly," we chose uninsured, nitrate-free meats as well as breads with only whole grains.
Cheeses: We wanted soft, semi-firm, aged, and blue cheeses. Given we had such a large group, we selected a goat cheese, herbed soft cheese, Stilton cheese with blueberry, Brie, Camembert, Manchego and a beautiful Blue cheese.
Nuts: We chose cashews, pecans, and a cinnamon covered almond.
Meats: We selected a nitrate free/uncured salami and prosciutto. Ham and roast beef would be other great options/additions.
Breads: We found whole grain breads, and crackers. We chose baguette sized bread for easy slicing and presentation.
Fruits: We chose blueberries, strawberries, and raspberries.
Vegetables: We selected a pre-cut veggie tray for convenience that contained carrots, broccoli, celery, sugar snaps and grape tomatoes.
Spreads: We selected hummus and a fruit chutney.
We also added a jar of small sweet pickles, green olives stuffed with blue cheese, and kalamata olives.
Putting it all together:
My first problem: I did not have a platter big enough to fit all of the items we needed to serve our very large group. Inspiration struck and I remember that sitting on top of our dryer for the past four years, I had a roll of craft paper that I always meant to do something with but never had. My daughter and I grabbed the roll, opened it up, cut off the dusty part, and trimmed it so it would fit comfortably on the counter. Problem solved.
We first laid the cheeses on the craft paper interspersing them at equal distances. We then used a gold paint pen to write the name of each cheese at the bottom of the paper. It added a beautiful touch. Next we used small serving bowls we had on hand and placed them randomly in and around the cheeses and decided which would hold the pickles, olives, spreads, etc.
Next we placed the breads and crackers in small piles throughout the board.
We decided to roll the meats into tubes to make them easier to pick up and not take up as much room, and placed them on the board.
Finally we interspersed small piles of fruits and veggies and the remaining nuts, paying careful attention to color and presentation for the finished product.
Everyone loved it and RAVED about the presentation and the taste.
It was a beautiful, delicious and healthy way to serve friends at a gathering.